RANS S-7 STARS in TV SERIES
August 2007
<![if !vml]>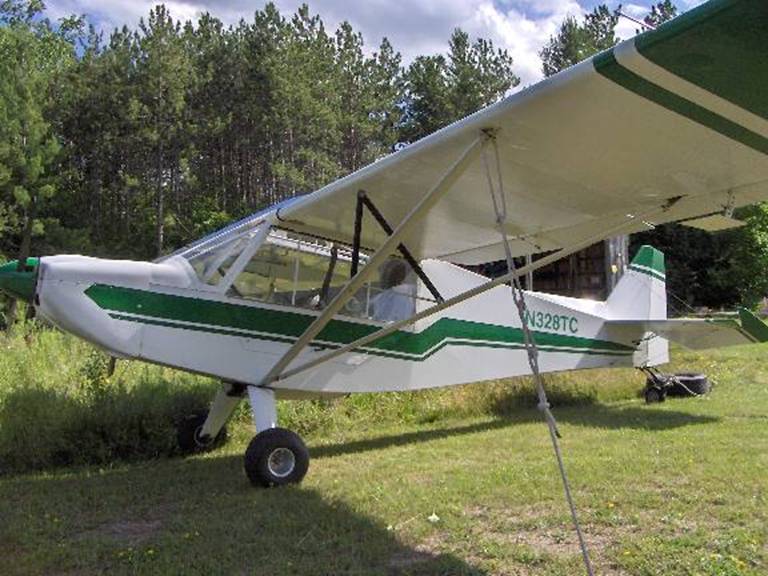 <![endif]>
A few weeks ago I had a call from Art Clark a guy who needed a "Supercub" on floats for a scene in a new CBC TV series called "The Border".  He had come across my ad for another S7 I was selling on floats. The ad read "SuperCub Lite" which is how I like to describe the S7 and he thought it looked fine for the job.
The shooting was on Chalk Lake, a small picturesque but private lake north of Whitby. It was not certain that the lake was big enough to get into.
Over the next couple of weeks the need for the plane came and went a couple of times until I learned that even if the lake were big enough, local residents had banned any motorized vehicles so trucking it in would be the only option. I was not keen on this so tried to get another owner to do it. On Tuesday July 24 Art called again to say they were still without a plane and would I please see what I could do before Thursday July 26 when they had to start shooting.
I met Art at the site Wednesday morning. Both floats and plane would have to be brought in on trailers and assembled; then hours later disassembled and removed. He agreed to bring in a "crane" to use to lift the aircraft so the floats could be installed.  It looked doable so I lined up my film buff wife and another flying buddy Dave MacRae (strong back) and we got to work.
This plane had not been on floats before but I did have a set of floats that had been on another S7. I had spare fuselage stub gear and rear brackets so rigging wasn't a problem especially since the plane did not have to even start up let alone fly for the shoot.
We trailered the floats to the site and flew the plane on wheels to a nearby strip then folded the wings and trailered it to the lake. Here is the "crane" lifting the plane while we put the floats on:
<![if !vml]>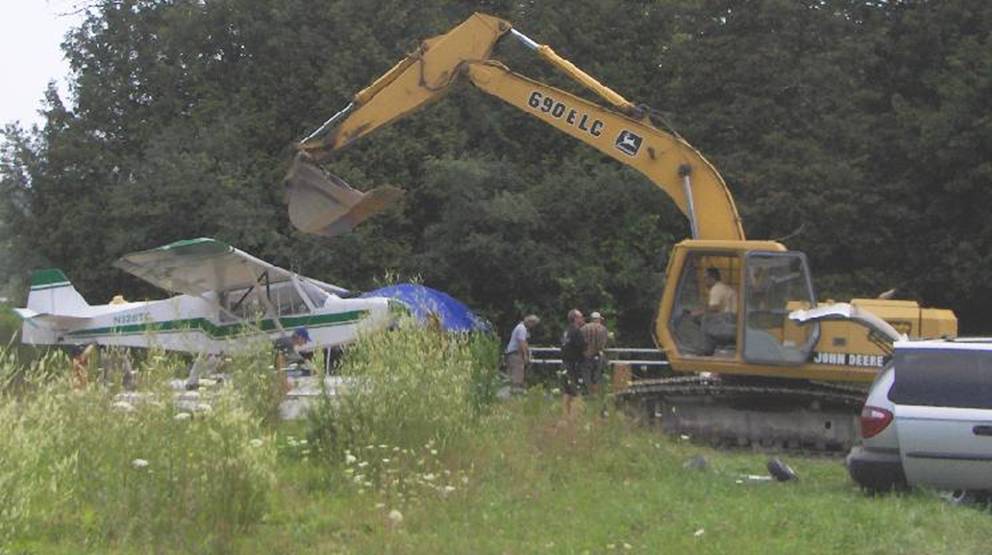 <![endif]>
I was worried that this machine wasn't strong enough to lift this massive S7 but it did a fine job.
OK, so we didn't make the deadline but we were ready later that morning. The shooting began shortly after with a crew of seventy. At least fifty seemed to be milling around all the time. The scene involves some kind of illegal border activity. Camouflage netting was slung over the plane at times
<![if !vml]>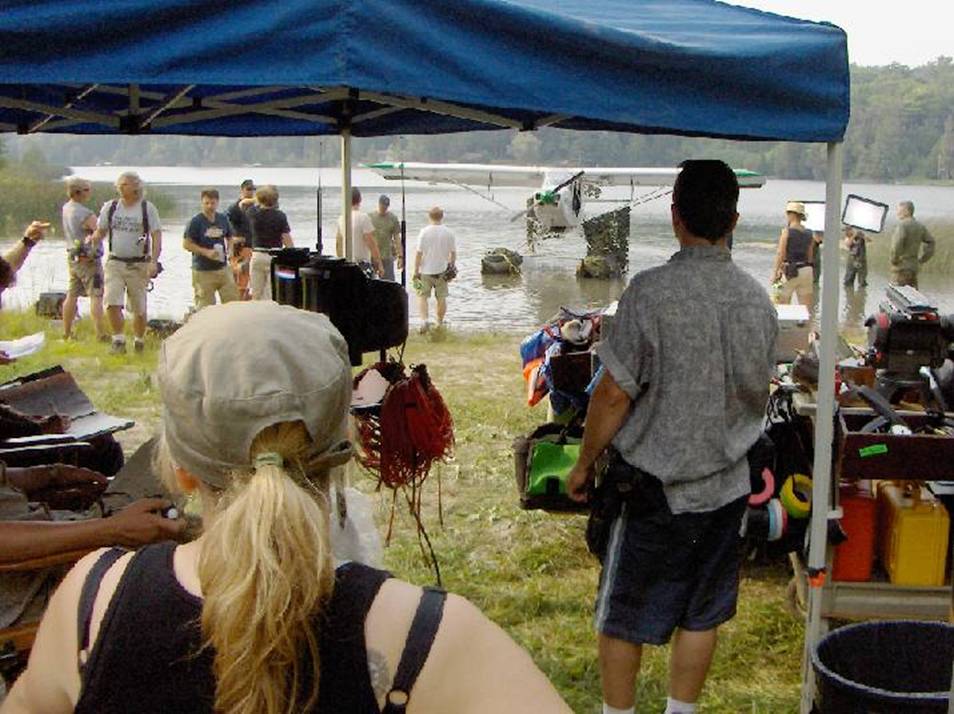 <![endif]>
These guys are eventually shot (lots of empty machine gun casings lying around).
<![if !vml]>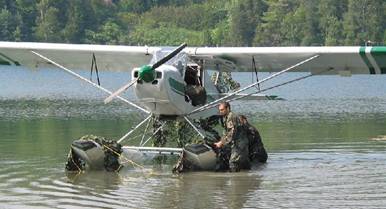 <![endif]>
<![if !vml]>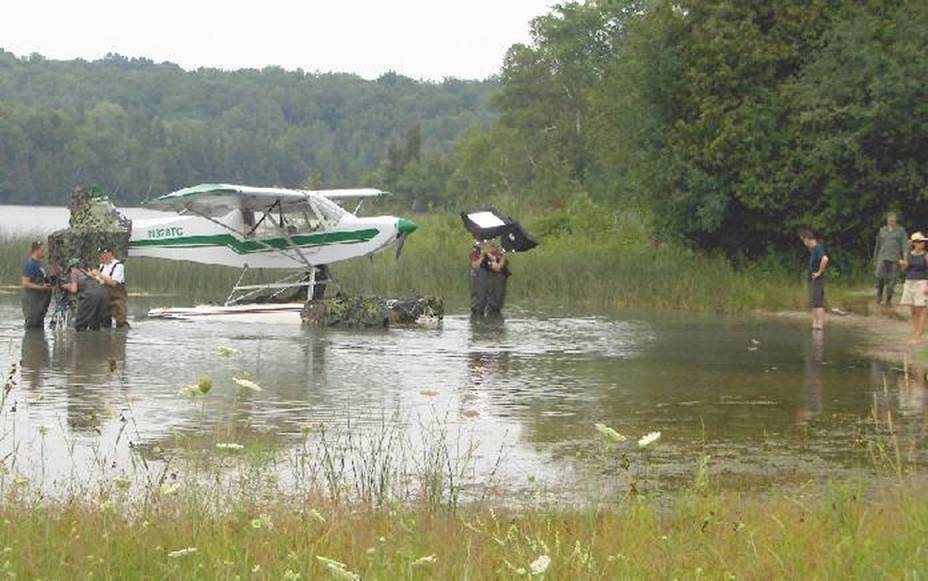 <![endif]>
I was also worried that the float colour scheme didn't match the plane's but no one else cared.
Next day we arrived to pack up.
<![if !vml]>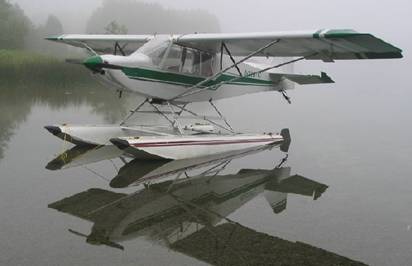 <![endif]>
And headed for home:
<![if !vml]>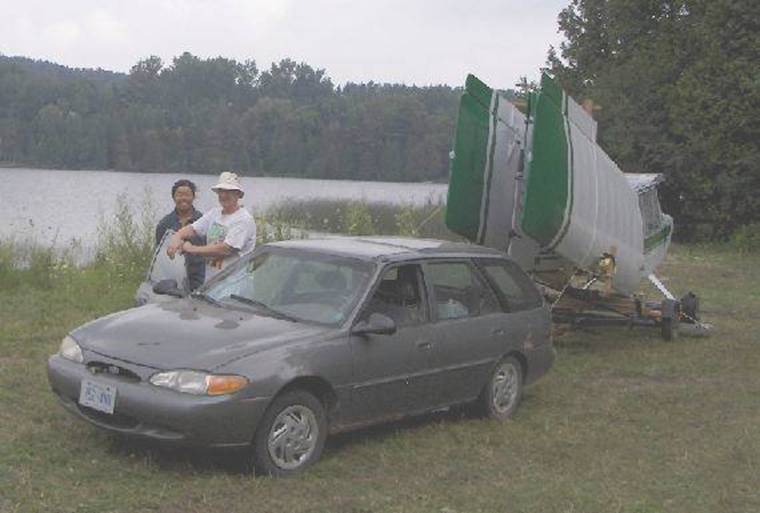 <![endif]>
The plane is going back on these floats while I rig some Full Lotus floats for it and then it will be for sale.
This was a great experience however it was not a big money maker. Next time I'll know how to charge. Doing things in a rush meant some bent and broken parts but nothing serious.
We heard there are a couple of other episodes with aircraft: a jet and also the Piaggio Gull flying boat that they set up on a road near the Oshawa airport.  Wonder what those owners got paid.
Peterc  at pipcom,com